Laity
Laity Ministry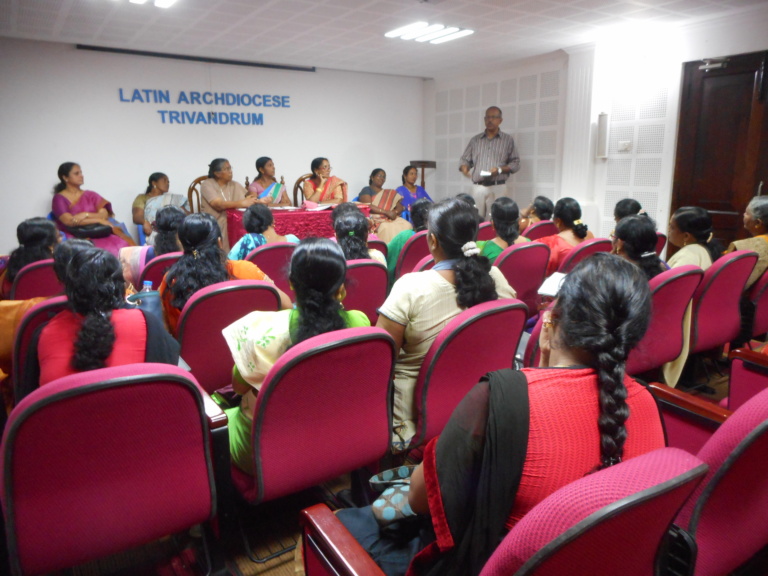 His Grace Rev. Dr. Soosa Pakiam M., Metropolitan Archbishop of Trivandrum convened the Archdiocesan Synod on May 20 – 25, 2012. One of the major recommendations of the Synod was the constitution of the Laity Ministry in the Archdiocese. The Synod also recommended for the appointment of a lay man as its director.
Vision
To empower and make competent the Laity to work with conviction and dedication towards the ultimate aim of the Church.
Mission
To enliven, coordinate and provide ample opportunities for the various laity forums, pious and social organisations in the Archdiocese, thereby providing a new vigour to the laity activities of the Church for the world.
Aims
To provide opportunities for the laity to organise themselves based on the teachings of the Church, and thereby train them in identifying their roles and responsibilities in performing for the benefit of the Church and the society at large.
To provide the laity with a viable vision towards the problems faced by Latin Catholic community, and thereby helping them to be vigilant, active and sensible towards the issues.
To coordinate and empower the various laity organisations and ministries by providing ample opportunities for their operations.
To provide co-operation to the various professional, community and social forums to organise programmes in the base level, by uniting them with the goal of holistic development of the community.
To ensure the participation of members from various strata of professional and service life, by bringing them together and helping them to work towards the upliftment of the community.
To provide adequate help, guidance and recognition for the youth and women of the community to organise programmes for their formation and empowerment.
To conduct seminars, discussions, and classes for the laity to enlighten them to take initiatives in the social, cultural and political scenarios of the community.
To coordinate and incorporate activities of the different ministries, and help them to work in communion in common fields of activities and in sharing ideas and working plans.
To conduct classes on Theology of the Laity (Laicology).
Constituents of Laity Ministry
Forums – Doctors Forum, Engineers Forum, Advocates Forum, Teachers Forum, Employees Forum and Non -Professional Forums.
Pious Associations -Vincent De Paul Society, Legion of Mary, Christian Life Communities and Combria Sabha.
Social/Community Organizations – Kerala Latin Catholic Association (KLCA), Kerala Latin Catholic Women's Association (KLCWA) and Dalit Catholic Mahaajana Sabha (DCMS).
Organizational Set up
There is an Advisory Board and a Consultative Committee for the Laity Ministry in the Archdiocese. Sri Archangelo M. is the present director of the Laity Ministry.
Laity Ministry in Parishes
As per the bylaw, a representative of the Laity Ministry is elected from each BCC unit. All the lay representatives of the Laity Ministry along with the presidents of the organizations and forums will assemble together and elect a Convener and a Joint Convener. The Convener will represent the Laity Ministry in the Parish Council.